A Business Partner For US Expansion
Expand to the United States leveraging an existing local network.
VALUE
What you will get if we become business partners
1. Instant access to California facility
I have a full working facility and warehouse in California outfitted with order pickers, conveyor systems from where we distribute product to the US and Canada.
2. Product distribution in the US
I have partnered with different companies that deliver products fast at the best rates. Additionally, I have developed connections in the packaging industry.
3. US product launch & go-to market
The US market is complex. I can help you choose the right segment of the market to launch your products, and then reach your prospective customers using different forms of online advertising.
4. Web development and optimization for US
If you need to develop a website for the US market, I can offer web development, and localization that works for the US market.
5. Digital marketing expertise
SEO/SEM/email strategies for US consumers. I increased the traffic of MealPro by 500% in just two years using the right mix of marketing channels.
6. USA workforce & compliance
With some product training you will have a US workforce. Initially, this will be a bare bones workforce but a strong foundation to begin operations.
---
QUALIFICATIONS
Who can be a partner?
Andy looks for the following traits when assessing potential partnerships:
+ Proven Product
+ Solid revenue base: $2 million+
+ Meaningful founder ownership: 30%+
+ High revenue growth: 50%+
+ Capital efficient: past breakeven
+ Shared alignment and vision
+ Market and operational feasiblity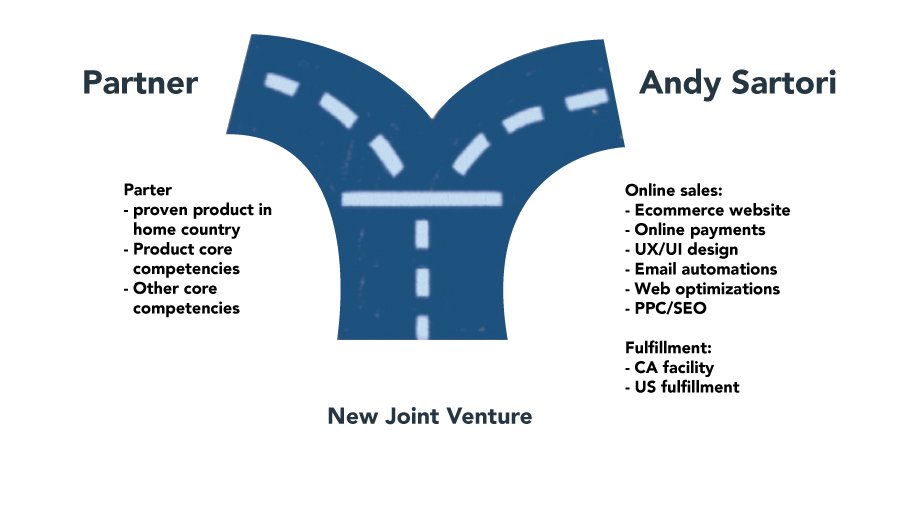 ---
COLLABORATION
How Partnering Works
1. Assess Feasibility
Contact Andy. Assess syngergies, market opportunity and feasibility.
2. Agree on terms
Negotiate terms, create a new entitity or operate jointly as seperate entitites.
3. Launch & Grow
Develop go-to-market, launch and grow together.
---